I got these yesterday.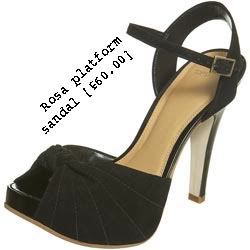 They'll be a good way of wearing all the coloured and patterned tights I have, which don't go so well with closed-toe shoes [as most of mine are]. They remind me of original Biba shoes [incidentally, when are Biba going to take on board the concensus of everyone from regular shoppers to Ossie Clark/Vogue veteran Vanessa Lisle, and realise that Topshop rendered them obsolete long before they relaunched - their transition from daring, inexpensive and inventive everygirl phenomenon to exhorbitant, 70s retro-hash catwalk brand is irrelevant and far from convincing? Only good thing Biba have done since Barbara Hulanicki left is the brief revival of their makeup and nail polishes, 10 years ago or so]. Yesterday I wore them with shocking-fuschia Topshop tights. Today they're paired with red, white and black houndstooth tights from Emilio Cavallini. Their height & platform are leg-lengthening enough to make even the least flattering tights a possibility.

One look I really liked from the shows in Feb was this:




[Photo: fashionista.com]

Tights the same colour as one's shoes are fun and very flattering, and an easy, chic way to wear bright colours. I've been wearing blue tights with blue patent stilettos, and now I want more. [I particularly want more patent. I now know how addictive this stuff is.] I went in search of coloured, round-toed, ultra-high-heeled shoes yesterday, but drew a blank. Best I found were some admirable fuschia suede round-toed stilettos in Schuh but my inbetweeny sized feet scuppered my chances. Everything else was either too low, or leaning towards open toed boot styling. I'm not convinced by this whole open toed boot phenomenon. I shall keep looking though...