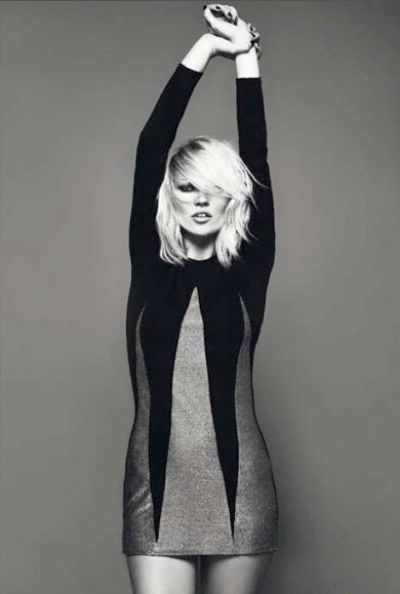 Intriguing!

I don't think I will be buying any of the Kate stuff though. I've always loved her style [though it has been well-documented that the past few years of rock n roll uniformity have definitely been a drop in form] but I know I'm not alone in noticing that many of the pieces look stunning on Kate and distinctly average on the rest of us. People buying into the idea of looking like Kate will be disappointed unless they already have her hair, cheekbones, stats and general fashion nous. Much like the rest of the collection, that dress will look like A Dress, not The Dress, on most people.

My only Kate piece is a one bell-sleeved, black chiffon pussy-bow blouse from about 6 months ago. It never looks or hangs right, and has been worn once. Overall it's a nice idea and some of the clothes are pretty but several seasons of KM for Topshop have shown that trying to sell her style so bluntly just diminishes its magic, and doesn't produce anything really covetable.

For those still really keen in emulating her style, I think Topshop's other ranges inadvertently do a far better job. Particularly the Tux Delux range at the moment. I nearly cried when I tried on their beige snakeskin tux jacket. It fits exquisitely, but I cannot bring myself to buy it when I just spent £45 and innumerable visits to the tailor getting my old black second-hand men's tux altered to fit me perfectly.