...as an addendum to the other day's post about the fashion press's response to the credit crunch, I really like this month's Bazaar.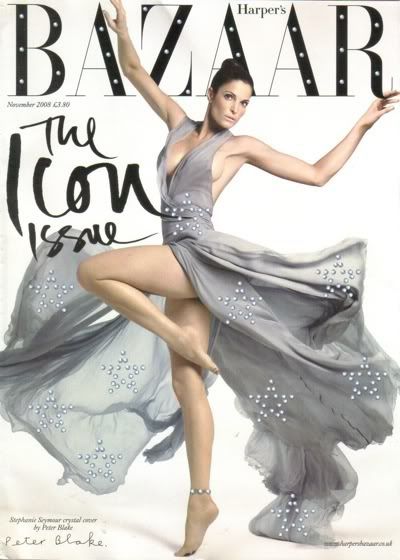 How timely to run an issue of icons, of people that never go out of style and clothes that never lose their cache. It's rather comforting to flick through the pages of their '40 classic pieces' article. It could have been dull, but typically for Bazaar, there's enough elegance to the pieces they suggest and enough sense to their arguments for them, to make me return to my own wardrobe and remind myself that I really don't actually need to add to it right now.

Is it just me that isn't at all impressed by Peter Blake these days though? Oh, British institution, fiddlesticks. Sgt Pepper is all well and good, but what's he up to now? 'Designing' the cover of the magazine with Swarovski crystals by sticking them in doltish stars at obvious points on the photo? Yes, very good, well done. Pfft. There was another piece of his in the magazine, I forget where, but if I'm sufficiently annoyed when I get home this evening, perhaps I'll scan it in. Not impressed.