I've been a little lazy. I could give you a string of excuses about my working hours, other commitments, etc etc, but it simply boils down to: I haven't had the time to post lately.

Anyway. Steps are being taken and posts will follow. Many photographs have been uploaded this evening.

Here is a photo of my favourite, favourite sort-of-new jacket. It's Paul Smith Women, and was a gift from the exceptionally kind Sister Wolf. She dispatched it across the pond in the mail a couple of months back, and the other day I figured out exactly how I want to wear it - either with wide, high-waisted trousers and my favourite old hand-me-down cream and navy striped jumper [very English, what? My mother's. I like it because it makes me think of cricket. Even though I hate cricket. Ridiculous.] or with black skin-skimming trousers, bitch heels, cobwebby neutral layers and hair up, up, UP in a kind of Glenn Close quiff. Sadly I do not have a photo of the latter, but you may take it for granted that I greatly enjoyed wearing it.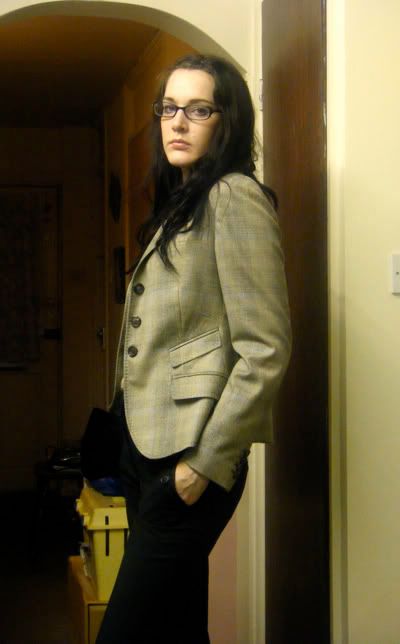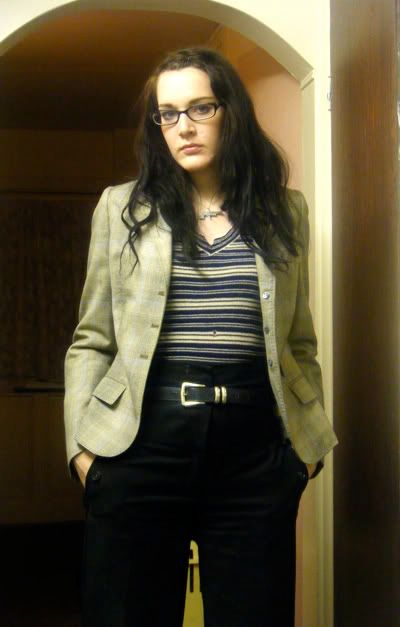 Yes, you're quite right. The jumper does have moth holes in it. Quite a few in fact. And the neckline needs mending. [A job for tomorrow]. I shall continue to wear it nonetheless. Lovely, dear jumper.

I think the jacket might also look sharp with a dark, clashing tweed tulip skirt & graphic tee, and some new suede heels that I will post tomorrow.

I love the old fashioned pockets - two on one side, one on another, the four-button cuffs, and the amazing three different linings [the sleeves are my favourite]. And I love the fit at the back - something that is problematic for me with most jackets. It's this sort of detailing that is maybe why I rarely buy high street jackets or blazers - coats, certainly, as the high street does snug & chic very well, but on a little tailored jacket you'd never get the perfect cut or attention to detail like this in high street shops.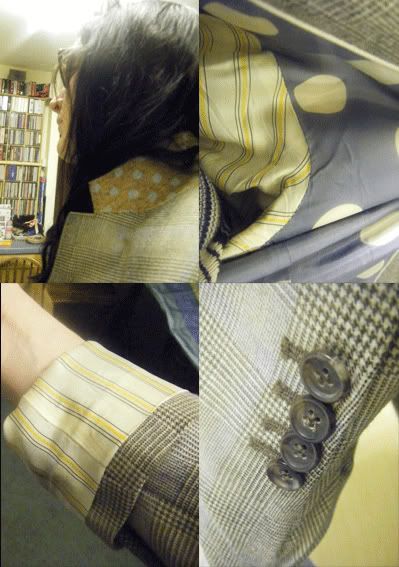 [A case in point: I so NEARLY bought this angular tailed riding jacket from Todd Lynn for Topshop the other day.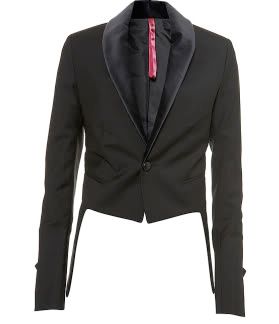 [Image: Topshop.com]

£130, and it was so chic - the pointy cuffs, the velvet collar, the sharp lines. But the fabric feels cheap, it doesn't sit quite right around my tummy, and I know I'd be wriggling about it in all the time, pulling it this way and that. A jacket - even a sharp, tight one - should be easy and let you forget you're wearing it - except when you see it in the mirror.]