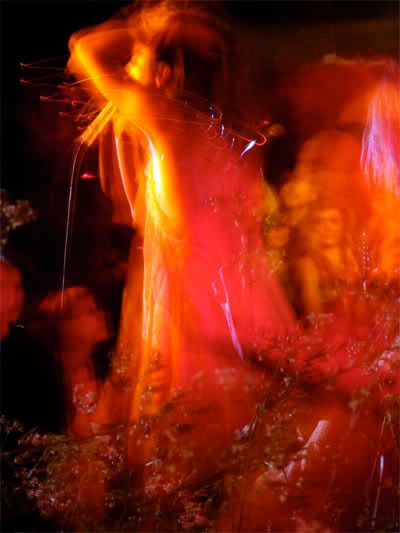 Not quite what I was aiming for, but I like this accident of a photo anyway. Katie Jane Garside of Queen Adreena, playing at our club last week.

She fascinates me. She's gorgeous and repulsive all at once. Never seen onstage without a bottle of wine and a veritable garden of foliage, she looks like the most delicate thing ever born, but revels in absolute and wanton destruction, careering into her bandmates, crashing into the crowd, getting her clothes torn and her make-up smudged across her face. The first time I saw them play, she crowdsurfed from the stage of the Barfly - with a cast on her leg. She's demented but phenomenal.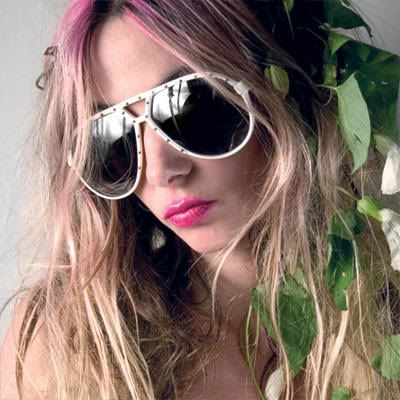 [Image: James Sutton]

I like her style in small doses - all together the effect is very witchy and banshee-like, but I like the component parts separately - gossamer-fine silk and lace, vintage lingerie, shocking pink lipstick and wild, tousled hair.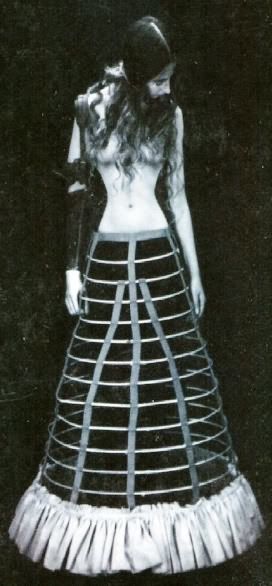 Here she is, looking like a Victorian dalek, complete with modesty-preserving ankle ruffles. It's a very apt photo - a woman who sings like a crazed songbird clad in her own birdcage. This photo plagues me, I can't figure out where the skirt is from, though it's so familiar. It reminds me of the wooden, mechanised skirts of Hussein Chalayan's A/W 2000 collection . . .




. . . and Acne's caged skirt as shown in Nylon's February London issue . . .



[Image: Ruven Wijesooriya]

. . . and Comme de Garcon's odd cage dresses from Another Magazine.