Once, I was a girl who loved colour. Now I find myself gravitating towards monochrome. I guess in part it's down to the tuxedo obsession that, after a good year and a half, I still haven't gotten over.

I had almost given up on finding a white shirt to suit me. £30 shirts from Zara, or £100 twill shirts from Thomas Pink [one of my illest-advised purchases ever]. They sit wrong on me. The fabric's too stiff, or badly cut, or the white makes my pale skin look pallid.

But the Chloe sample sale the other week yielded the shirt of my dreams. While the other customers hovered over the handbags [sorry, Chloe fans - I can't get my head around paying £300 for a bag, let along their real shop price], I found something curious: the one item in the room without a label. No washing instructions, not even a size label. Nothing to say it was by Chloe, except that if you peer closely at the buttons, the name's engraved on each. And it was the only one. I briefly pondered whether some crafty customer had furtively swapped their own posh shirt for a posher one earlier in the day. It is the finest - nay, the only - white shirt I have ever enjoyed.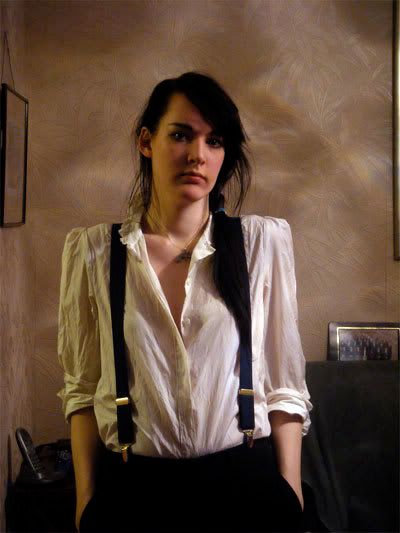 Excuse its rumpled-ness - took this photo at the end of a long day.
It sits just right. It feels just right. I think it's some kind of raw silk, or extremely fine cotton. The shoulders . . . oh, the shoulders! I love it. Mostly, I love it because it is unremarkable - it does what I have always wanted and never managed to get a white shirt to do - its job. There now follows a series of self-indulgent photos of it.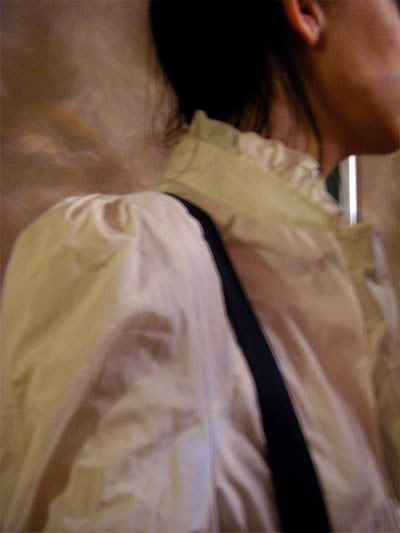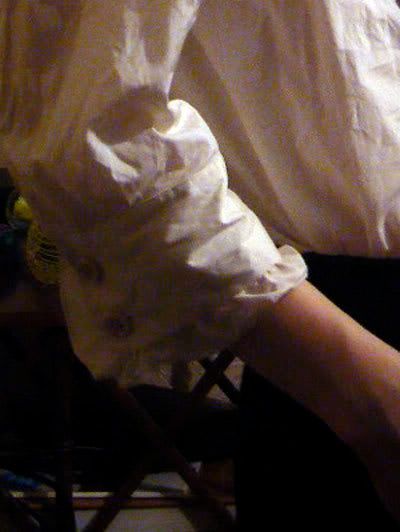 The sleeves . . . the collar . . . truly, I love it. And the slightly dulled off-white colour is much easier to wear than white.




With some Topshop khaki shorts I bought recently too. Nice with grey tights and black suede platform sandals.

Such was my joy that my white-shirt goggles then led me to buy this monstrosity: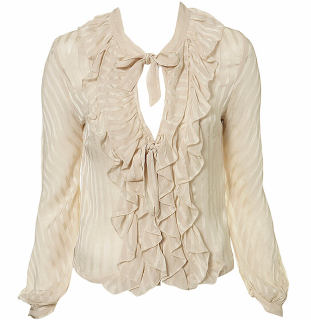 It seemed like such a good idea. I daresay Kate Moss thought so too, when she approved its inclusion in her collection. [My first time succumbing to it.] I learned two things then: never buy cheap shirts, and never buy two shirts in one day. We will not dwell on the error: it went back the following day in disgrace.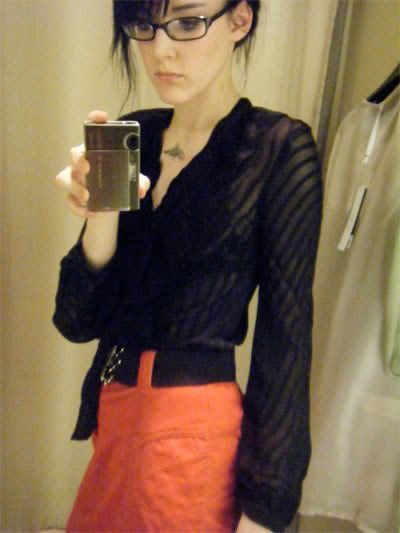 . . . and I bought it in black instead. Curiously the black version is quite lovely. I learned a third thing: when in doubt, always get it in black.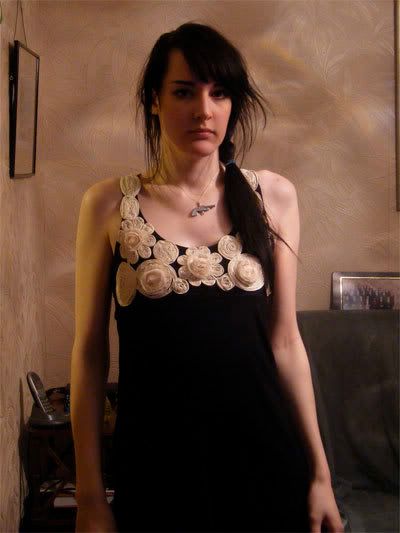 Last, a sweet jersey minidress. Comfy, great with tights of any colour [black, coloured, or white with flat black ankle boots for super-cuteness], good over t-shirts or shirts, simply cut enough to be able to tuck it into a skirt and wear as a top. I won't hear a word against Topshop.




The white detailing is gorgeous - linen and netting, quilled [remember doing this at school with strips of curly paper?] into flowers. Très jolie.