Women! Want to look like like an escaped jailbird on the run? Perhaps you reckon that tough, prison-hardened aesthetic is just the thing to combat this summer of fey florals and revolting ruffles. Maybe you want to look like everyone's favourite smackhead/crackhead/convict/generally distasteful and worrying tabloid hero/villain, Pete Doherty, mere minutes after replacing his Likely Lads suits for crim-wear on his latest visit to one of Her Madge's Pleasurable outposts.

Or maybe you just want to look like The Penguin.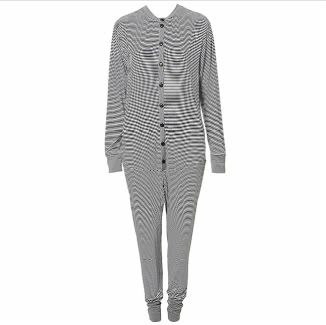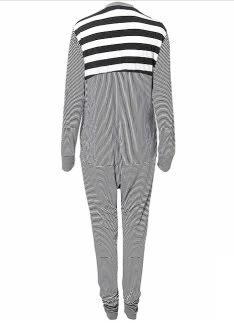 Hurry on down to Topshop now! This superb . . . um . . . I'm not quite sure 'jumpsuit' covers its full glory . . can be yours for fifty of your British sterling.
Regular readers will know it's not often that I write posts of the 'buy this here!' nature, but this one was too good to miss.