On Sunday I am doing a shoot with S/S 08 Matthew Williamson clothes. Exciting! I'm standing in for an absent model. Should be fun, my first shoot of this kind.

In less fashion-related news, rounding the corner of Soho Square tonight en route to the Everisto Club, every Londoner's favourite dive since Tattys closed, I saw two not entirely sober men trying to get into a heaving nightclub . . . by climbing into the window round the side of the building, in full view of the square. Very very funny. One was carrying out sloppy look-out/encouragement duties while the other struggled somewhat intemperately with the ground floor sash window [this gave one a view right onto the dancefloor of the club, which is actually some kind of religious organisation/homeless shelter] and tried to climb in but with scant luck. Naturally I got out my camera.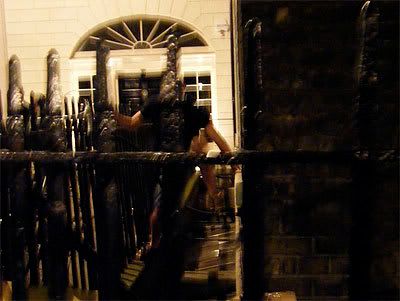 Sadly I was too slow to capture the full glory of his ungainly half-in-half-out state before he admitted defeat, arse in the air 'n' all, but perhaps you can imagine it instead.

The bouncers, a few feet away round the corner, were oblivious to the crime happening under their noses. These days you really can't get the staff.