.......I haven't found any yet.


I'm trying out clothes to get me through the summer, through festivals and city heat. I will not resort to smock dresses and shapeless tops. I'm not flapping about in flipflops or wearing the smallest thing I can find simply to combat the incoming heat. I've worn my used-to-be-skinny grey jeans every day for the past week, with sailor vests and unbuttoned men's shirts tucked in at the back, or loose black cut-off jersey tops, or semi-halterneck mesh-cutaway vests. I'm bored. BORED. I want some elegance this summer.

Some ideas: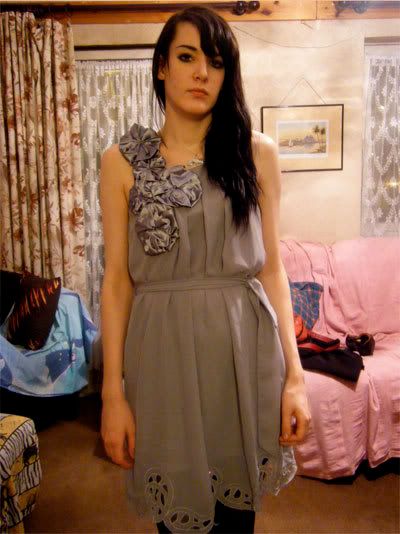 I got this grey silk dress at the weekend in Appletree. Very comfortable and airy, and I like the shape and the satin roses. I need to find ways to wear it in the daytime, but it'll be nice at night, with black tights and low-heeled second-hand ankle boots or with high black suede platform heels.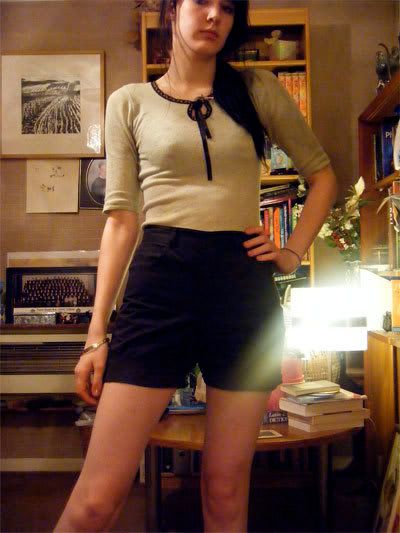 These shorts were once a pair of black trousers I bought five years ago. Hell am I paying for new shorts when I can modify things I know already fit me. I'm not sure about the length yet - I've rolled them into cuffs and pinned them, but not sewn them into place yet. Constructive opinions welcome. I probably wouldn't wear them with this top, either... I'd likely keep it monochrome with a loose top tucked in, or a satin 30s-style cap-sleeved top. They will solve lots of problems with tops I have that need tucking into higher-waisted shorts and skirts than I currently possess. Shoes... not sure yet.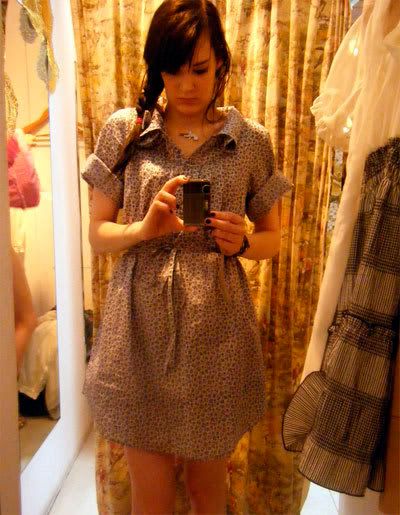 Tried this shirt-dress on in Appletree when I bought the above silk dress. The sleeves and collar were too big but a bit of rolling fixed that. I like it but I'm not sure if I like it enough to buy it. I'd rather buy a large men's shirt from M&S, sans flowers, and attempt the same shape with it than spend £60 on this [though I don't know how I'd do the rolled collar, which in hindsight I really like]. Still, it is an idea. Nice with gladiator sandals, or white tennis shoes.

None of these options seem quite sharp enough yet though, and being pale [and I'm not doing anything about that] the easy-breezey nautical looks that work on tanned girls won't look right on me; I think I need to play up the contrast, rather than try to look classically 'summery'. I'm just not a summery-looking lady.

I want to look relaxed and comfortable..

...but more chic than everyone else. Is that wrong?