I detest flip-flops. What an unimaginative and thoroughly uncomfortable breed of footwear they are. Almost no-one can look dignified in them, and how they stay on one's feet I'll never know. Even the sound they make is abhorrent. I saw a man on the tube in them this week, with loose shorts and a dark, very heavy wool jumper - what an odd combination. Insult was added to injury when, sitting two seats away from me, he took his flipflops off and curled his bare [and not so fragrant] feet up on the seat next to me, and fiddled with them for the duration of the journey. I was not impressed.

Still, I have now come dangerously close to owning something resembling the hated item myself. For a few weeks now I've been on the prowl for some patent red gladiator sandals - no variation on this would do. It's rare I buy something purely to match one item in my wardrobe, but this was a necessity.




They were £20 from Aldo, which is about as reasonable as I think I am likely to find without venturing into Primark. I'd have preferred something more heavily styled, and in nicer, more tomatoey patent than this, but whaddayagonnado? After wearing them around the house a bit, I think better of them than I did initially. And they strap around the ankles, so are very much not flipflops. My integrity is saved.

I shall wear them thusly: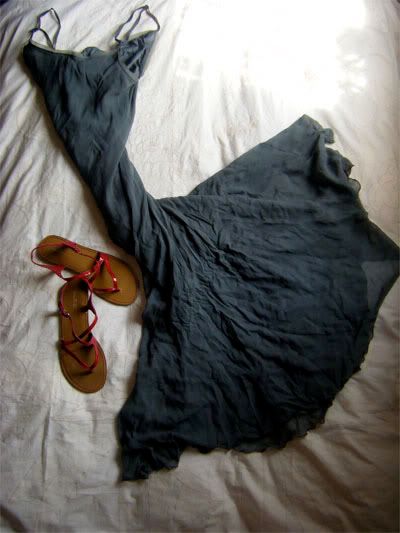 I bought this grey silk ankle-length Jigsaw dress secondhand at least two years ago, and have never worn it, lacking the right footwear. It will make its debut at my friend's housewarming barbecue in three weeks. Like the footwear, the bias-cut floaty dress is not my usual style - I have resolved to be sharp this summer, not boho-pretty-pretty - but it is lovely enough that I'll make an exception. The red patent sandals will keep it safely out of hippy territory, along with a narrow, chic belt and my old silver pistol necklace.