I meant to post about this last month, but didn't. As per a couple of posts below, I've been seeking a good knee-length coat for a while now. The only long one I had is a very lovely but now rather beaten up black wool-cashmere belted 40s-style coat by Tara Jarmon - too heavy for spring weather.

I wanted a delectable, unusual trenchcoat with proper buckles - none of this cheap slide-buckle/tie-belt absurdity. Sadly it's not easy finding the coat of one's dreams when one doesn't have the budget of one's dreams.

I had finally accepted that I wasn't going to find my coat on the high street, when I was directed to Burberry's factory store in Hackney. Unsure of what to expect [a striplit room full of people hunched over boxes, rummaging furtively? A chilly railway arch with one row of last-season stock? A high security facility to which one could only gain access by invitation or staff privileges?] I took the two and a half hour round trip it takes me to get to that end of London, and wandered in.

It's huge and well-lit, on one floor, the size of a big high street store, and everything's very well organised. They have everything - coats, dresses, bags, umbrellas, shoes... The tops start from £9, but that was not what I came for.

I found this: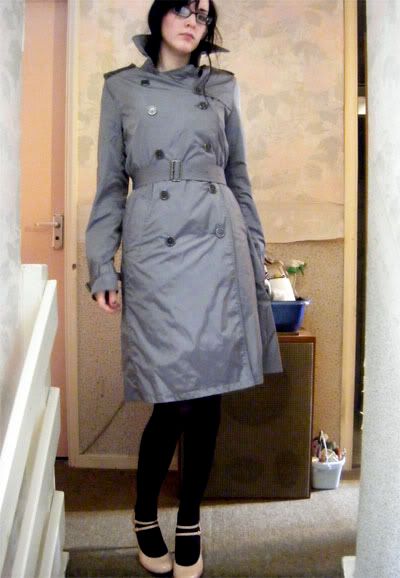 I tried on every trenchcoat they had. I had been after a beige one, but none of them fit quite right - too big in the shoulders, belted too low on the waist. This one was the only one that fit me like I really wanted it to, and happy coincidence of happy coincidences, it turned out to be the cheapest too, at £195 - not pennies, but far less than I expected.

I love it. Not too warm, not too flimsy, goes with everything, and dry cleans well - your slovenly correspondent managed to stab it with an inky line of black kohl one day, and it dry-cleaned out perfectly.

Also it folds up into a travel pillow. With its own bag. Amazing.

I now never need to buy a coat again. Maybe.