What fashion-enthusiastic woman doesn't want a dressing room of her own? Somewhere to shut herself away from the world, surround herself with her most beautiful possessions and style herself as she wants to look.

Old novels and period films always make me hanker after such a thing. The only modern movie I can remember that celebrated the dedication of personal space and time to one's wardrobe was Clueless - everyone remembers Alicia Silverstone's modern miracle of a computer that mixed and matched her outfits for her, and that ridiculous circular, colour-coded closet. It was a bit Clarissa Explains It All though.

What I'm really talking about is Glenn Close, stalking about her mirrored and gilted rooms in Dangerous Liaisons, exuding puff powder and spiritual venom. Emily Mortimer in Bright Young Things, hiding behind the telephone in her beautiful apartment with its interior railings and curved walls, covering her eyes in glitter and kohl. Colette's aging but still graceful Lea, with the incorrigible Cheri running amok within the walls of her home.

missbondage's post on The High Street reminded me of it, as did the photos of Dita Von Teese's vanity room in Fur Coat, No Knickers.

This is mine - it's an optimistic mess, marred by awful yellow and terracotta [!] walls [not my doing], dodgy laminate flooring [also not my doing] and a woeful lack of space. The redeeming features [beautiful old wooden furniture, pretty trinkets, my desperation for it to be better than it is] fight frantically with the sheer dreadfulness of the room.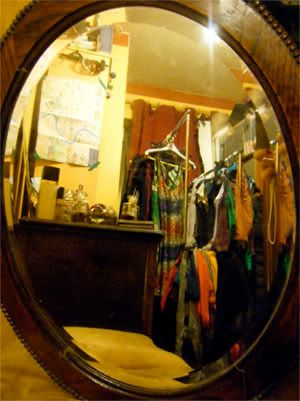 [Two] [more] images

Interior design blog Brilliant Asylum provided me with plentiful inspiration though.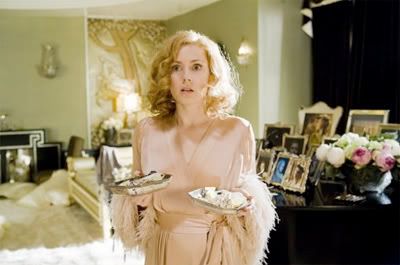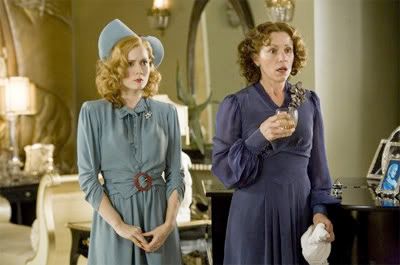 From Miss Pettigrew Lives For A Day - I shall certainly be seeing this, as much for the magnificent Frances McDormand as the delectable set design
[Images: IMDB.com]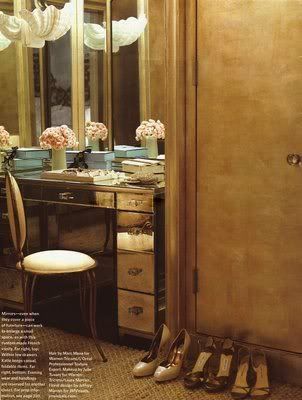 Katie Lee Joel's dressing room in New York. Covered in gilt. Gosh.
[Images: Town & Country]

I've been inspired to take action. I will blitz my sorry looking 'other room' with paint and whatever gilt, crystal and lacquer I can lay my hands on [albeit in moderation - there's only so much a small room can take].

I WILL surround myself with beauty. I will.