So, I have a sewing cupboard full of assorted silks. A box with 5 different kinds of scissors, thread in every colour, needles of every size, two tape measures and numerous pots of beads, buttons, sequins and sundries. £85 worth of beautiful English pinstripe wool. An unfinished silk backless top for which I have just found some suitable lining, and some purple dye & white silk just in case it isn't all that suitable after all.

I chickened out, and spent a day making a purse out of my old scarlet silk-satin dressing gown.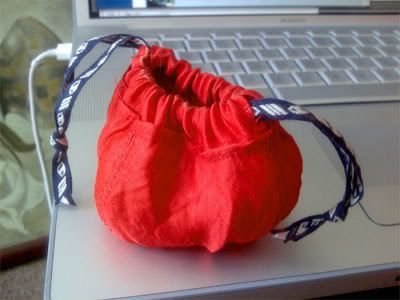 The underside isn't perfect but I kind of like it. Mostly hand-sewn, lined in the same silk, so it's as tough as old boots.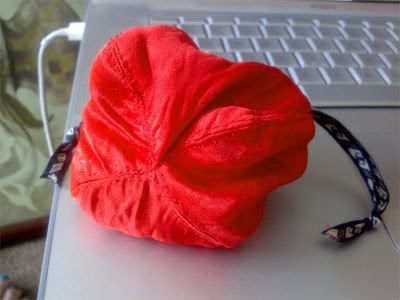 The ribbon is part of a whole roll of antique ribbon that I got for £2 in Notting Hill the other week.

I'll attempt the trousers...um... next week.