For my friend Ian's birthday this week, a bunch of us took a trip to see the live production of Brief Encounter at the Haymarket. It's truly magical. From the time you go in, it's era-perfect - a little skiffle band playing around the auditorium as you enter, uniformed attendants serving refreshments. The same people get onstage and turn out to be the cast, and then provide the intermission entertainment. It's tickle-me-pink funny and unbearably sad, and the staging is so inventive and gorgeous. If you're a Londoner, I recommend it heartily.

They are apparently taking it to Broadway, and Sarah Jessica Parker and Matthew Broderick will play the leads. Ugh. I imagine Sarah Jessica Parker will relish the opportunity to be TERRIBLY! DRAMATIC! AND! OVER! THE! TOP!!!!!!!!! OH! WOE, WOE IS SHE!

Rather you, dear New Yorkers, than I.

Anyway, we thought we'd have a jollier time if we dressed up, so dress up we did. I can't really do 1940s very well, because I have neither curl-friendly hair nor pneumatic bosoms. So I went for a marcel-waved 1930s look. I know I look like Olive Oyl - it doesn't need saying, so don't say it.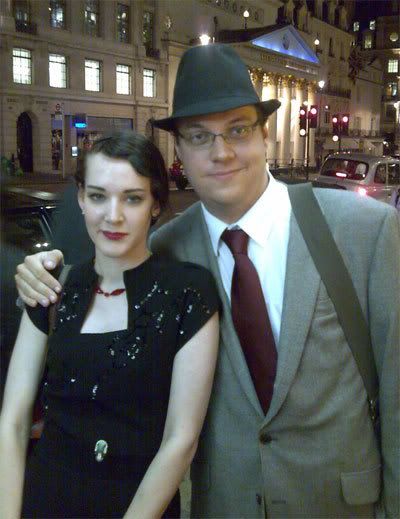 And here we are with the lead actor, Tristan Sturrock. He seemed much taller onstage, but then he wasn't dressed like an emo mime at that point. Still, a very nice man, stripes or no.