A lady on Livejournal posted this photo in a list of her fashion inspirations for this season, as part of the new romantic [soft goth? I hate that label but that is, if one is to adhere to Vogue's lexicon, what they're calling it] look.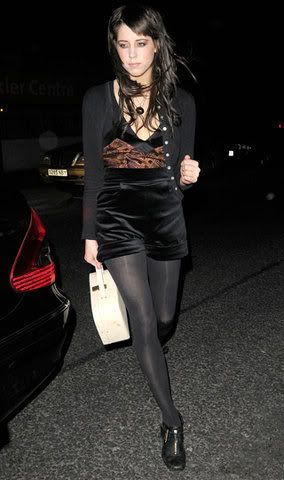 It has just occurred to me that I used to dress almost exactly like that when I was eight. I don't think I had the high heels, but velvet shorts, black tights, hippie-ish brown top, pendant - check, check, check, check. My hair was much shorter and distinctly mousy, but I was only eight, so... fcuk all y'all.

Now I know there's something of a nineties revival going on, but was this actually in fashion back then? I don't remember it being so... or if it was, I don't remember being aware of it, though I do remember there were always piles of Vogue and Harpers & Queen in our house. I was eight, and all I wanted was to be a mysterious looking hippy-goth. It is doubtful whether I succeeded. Whether Peaches succeeds now or not is, perhaps, a separate discussion entirely.