This wasn't quite the angle with which I expected to approach my stay in Belgium, but an interesting point on Make Do & Mend set me in mind of it.

It was a four-day trip and I stayed in Ghent, making day trips to Antwerp and Bruges. It became something of a shopping frenzy, as the soon-to-come photos will attest to.

I was really struck by the superb layout of their stores, particularly the smaller boutiquey ones. As Kate of MD&F rightly observes, many British stores really self-sabotage by cramming in so much stock that you can't see the wares for the trees, so to speak. One thing I like about Belgium is its pace, and this seemed to translate to their shopping - there's none of the frantic rail-to-rail nonsense that makes shopping an ordeal. In many of the stores I went into this week, boutique or chain, there was floorspace a-plenty, and goods wisely and pleasingly displayed with enough surrounding room to let them breathe and entice people. Some honourable mentions:


- Eva Bos, Ghent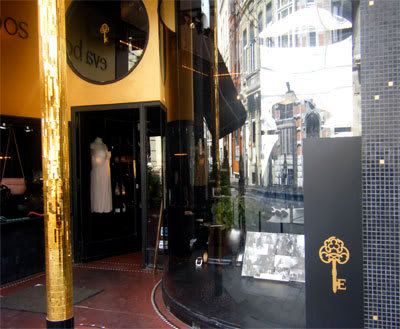 Eva is apparently a teacher at Ghent's fashion academy and this is her own personal fashion display case. There's a mirrored golden pole outside the front door, and the interior is equally yummy. McQueen shoes, a small display of jewellery from the reasonable [45 euros] to the very expensive [800 euros], and perfect dresses [vintage couture and new designs] in black, red and powder pink, all in a low-lit jewelbox of a space.

- Iki, Bruges
My favourite second-hand shop in the world. Another ancient tiled floor, and the minimum of merchandise - one rail of clothes, a low wall shelf of bags and shoes, a cabinet of 30s and 40s jewellery, and occasional other pretties dotted here and there. Everything's shockingly inexpensive [10 euros for a sweet black suede 40s purse? 5 euros for a fetching short navy paisley men's scarf? Gosh...] and very well chosen - not one dud in the place. First time round, I bought out nearly the whole shop. Sadly it was closed on my return visit, but re-opens on August 14th.

- Bruphils, Bruges




An average-looking, well-laid out chain for elegant workwear at first sight, with a fairly pricy main collection and a younger concession range, until you notice the expertly cut sailor-waisted trousers and the oh-so-shiiiiiny patent boots, and the little garden out the back. Also, I enjoyed the awfully heavy, lime-green felt curtains on the changing rooms - a wee spot of well-placed childishness in an otherwise very grown-up store.

- Au Bon Marche, Ghent
A screamingly delectable little place with an antique tiled floor... a glass cabinet housing pretty snap-close purses and wallets made of such soft-looking leather, nothing less than 'succulent' describes it... eye-wateringly pricey, delicate handmade jewellery and funny little stationery and curiosities. Everything is far too expensive [triple-figures for the tiny diamante bracelets], but it's all so pretty and so well-displayed, one can't leave without spending at least 50 euros anyway.

- Episode, Antwerp



[Image: FashionFillers]

Pretty well known across blogland. Londoners know the Chalk Farm Road branch, with its orange shop front and somewhat unremarkable Camden-y 'vintage' stock. Antwerpers have it so much better. Imagine Mint of Covent Garden, but much large, better organised and with dramatically slashed prices, and a really nice, airy space lit by skylights and left to breathe. Again, ample space between the carefully ordered rails - relief! Some second-hand places are an explosion of headachey colour; this one's a rainbow. An hour and a half later I was still trying things on, to the probable chagrin of the staff who were too polite to request I leave so they could go home. I redeemed myself at the till with my debit card.


I can't wait to go back to Belgium and explore more. I can see myself moving there one of these days.