It's been all over the papers by now - Kate's first catwalk show in 4 years.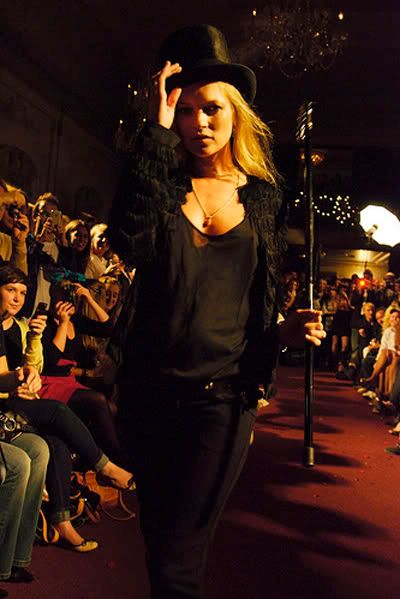 It happened at the venue where I work now, and was the climax of a party that went off the end of the Richter scale. No-one was expecting her to walk... we thought she'd just sit back and enjoy the show.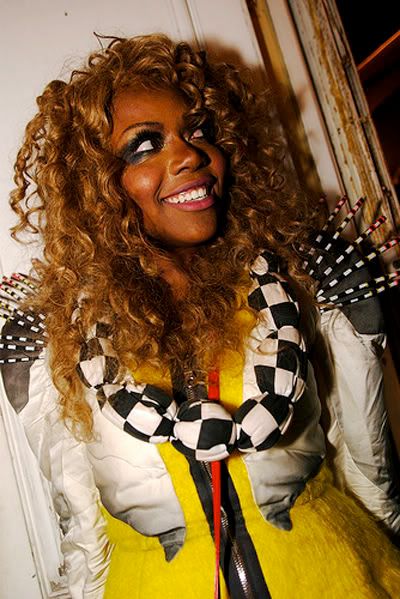 Kate aside [well, she did look superb], it was a great party in its own right. The guests looked phenomenal - a friend of mine turned up in a coat made of stuffed toys, Bishi was there looking elegant, and I saw the most convincing drag queen I've ever witnessed - s/he was tall, very slim, with a pretty Louise Brooks face and hair, a tiny cupid mouth, and a very sharp but restrained 1930s style suit. I was admiring how pretty she looked, when she opened her mouth and out came this bellowing, unmistakeably baritone voice. Gosh! I wish I'd had my own camera on me to capture some of these wonderful creatures.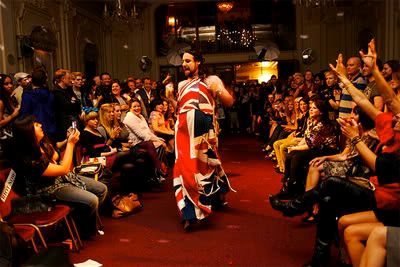 The party launched stylist Johnny Blue Eyes' label House of Blue Eyes, a punky collaboration with several designers he knows, including Giles Pearson, Carol Wiseman and others. His background is mainly in styling music videos and bands [including Scissor Sisters' 'Filthy/Gorgeous' and the amazing 1930s-swimsuit dancers in Take That's 'Shine', and that showed on the night - Ana Matronic hosted, Beth Ditto catwalked and sang, and the guestlist was longer than a life sentence.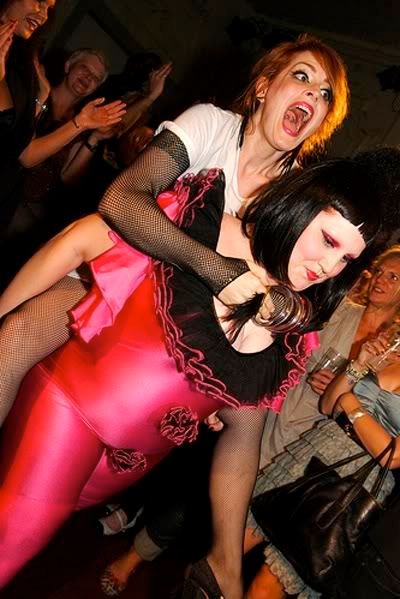 I spent the night on four-inch heels [thankfully my own - I was offered some 1970s de Havilland shoes to wear but there's no way I could have stayed on my feet all night], helping our besieged bar staff, generally trying to control the chaos and keeping Miss Moss in alcobooze.

But my favourite bit of the whole thing wasn't so much the party as the preparation - Johnny styled me and our bar supervisor for the night, so I began the day in a dressing room in Goldhawk Road surrounded by improbably tall, thin boys and girls in various states of undress, with two hair-stylists setting about me with hairdryers. A very strange way to commence work for the day! I don't have any photos of my outfit yet - a lady did photograph me, so I'm hoping she'll send me the photos. I wore my Mango/Yousefzada dress, a little 1940s veiled hat, some black suede peep-toe platforms and an amazing necklace - a huge [fist-sized, truly] brass lion's head pendant on a metal and suede chain. Our bar supervisor looked like Jessica Rabbit in a vintage black & gold high-cut swimsuit and Brigitte Bardot hair... wonderful!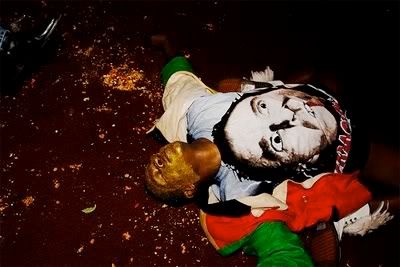 Roll on the next party...

[All photos: Lucy Johnston]